Mini Cruise to World Harbour Day

With live entertainment, lunch in our buffet restaurant and a ticket to win a free mini cruise in our raffle.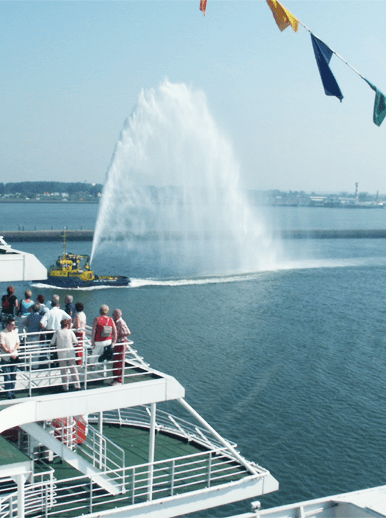 What's included in your 2-night mini cruise?
The price of a standard ticket for our mini cruise from Hull to Rotterdam includes:
Comfortable 2-bed cabin for your overnight stay
Overnight sailing taking you to Rotterdam City centre on the day of arrival
Incredible sea views to enjoy on your journey
Live entertainment on board
Delicious lunch included
Things to do in Rotterdam in a day
There are plenty of things to do in Rotterdam that you can do in a day. Spend a couple of hours in the city centre of Rotterdam and visit some of its great landmarks before you set sail back on a ferry to Hull on the Rotterdam mini-cruise in the evening.

Disembark the P&O Ferries mini-cruise by car and explore Rotterdam's post-modern architecture with a short drive from Rotterdam port. Don't forget to visit the impressive market hall (Markthal) in Laurenskwartier, which is home to around 96 food stalls, including local Dutch favourites such as local cheese and Stroopwafels.
Day 1

15:00

Check-in opens at Passenger Terminal 1 (Hull)

16:30

Boarding commences for foot passengers & vehicles

19:00

Last check-in

20:30

Ship departs for overnight cruise to Europoort, the port of Rotterdam.

Day 2

09:00

Arrive at Europoort

11:00

Departure to Rotterdam & leisure time including regular entertainment and views from the ship of the port. Special Port Guide will tell the details during the tour over the ships intercom.

11:30

Lunch

13:00

Experience a 180 degree 'narrow' turn around in front of the Erasmus bridge The ship will be part of the event by performing its emergency demonstration at the Erasmus bridge.


14:00

Arrive in Europoort

20:30

Ship departs from Europoort (20:30 on Sat/Sun) for another entertainment filled overnight cruise back to Hull


Day 3

08:00

Arrive in Hull (07:30 on Sunday and Monday)
---
Mini Cruise to World Harbour Day
Sea views, fresh open spaces and the best views of the Rotterdam Harbour! Sail with P&O Ferries to the World Harbour Days in Rotterdam City centre! From £ 149 per person.

Sail with us from Hull to Rotterdam on our new Sailcation, World Harbour Days mini cruise with departures on Friday 1st September or Saturday 2nd September. Enjoy all the benefits of a mini overnight break, a fully packed entertainment programme on board of the vessel and transfer to Rotterdam City Centre!

During the World Port Days, Holland present the port of Rotterdam to the public. On Saturday 2nd (departure Hull Friday 1st) or Sunday 3rd September (departure Hull Saturday 2nd) you can enjoy a full day of fun on board. Experience one of the most unique mini cruise breaks and book your ticket today. Treat yourself to a coffee with Dutch apple pie, go shopping or explore the vessel. And the best part is, your lunch in the Kitchen restaurant is included in the deal!

From our outside decks you'll have one of the best views over the port of Rotterdam. You can also watch our nautical demonstration and of course our famous "turn" in front of the Erasmus Bridge. Book now for a day to remember.