TRAVELLING WITH A PET
No need to leave your furry friends behind – they can come on holiday too when you travel with P&O Ferries.
It costs £15 per pet each way to travel on the Dover to Calais route, with registered Guide and Hearing Dogs travelling free of charge.
All pets must stay in the vehicle during the trip, unless travelling in our Pet Lounge. Pet Lounge is a clean and dog friendly area where you and your pet can relax and enjoy all the comfort, space, complimentary refreshments and treats on board together. A relaxing lounge with comfy leather sofas and space for you and your companion, an exercise area on the outside deck, and much more to give your dog a calm and stress free journey.
Below we've put together a few tips on how to make the journey as hassle-free and comfortable as possible for you and your pet.
You can also download the latest government advice leaflet here.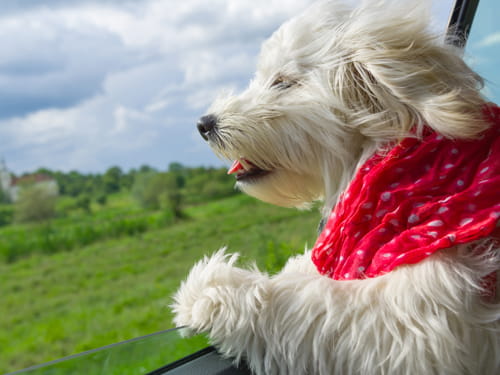 From 1 January 2021 you will not be able to use the existing pet passport scheme when travelling to Europe or Northern Ireland* with your pet. Instead you'll need to follow a different process in advance of travel. For more information on the new animal health certificate (AHC) process and guidance about pet travel to Europe and Northern Ireland* from 1st January 2021, visit the gov.uk site or our dedicated Brexit pet page.
*Please note there will be no routine checks carried out on those travelling with pets from GB to NI until 1 July 2021, travellers will then be expected to be fully compliant from that date. For more information visit the Northern Ireland Department of Agriculture, Environment and Rural Affairs website.
We've also put together a list of handy travel tips of everything you'll need to know, so that you can be fully prepared for all your future journeys to Europe and back.
When travelling to an EU country or Northern Ireland, owners should visit their vet at least one month before travel and make sure their pet has:
A microchip for identification.

A valid rabies vaccination - there are different requirements for pets entering from certain third countries, such as a rabies blood test.

An animal health certificate unless you have a pet passport issued in an EU country or Northern Ireland.

Tapeworm treatment for dogs. A vet must treat your dog for tapeworm and record it in the animal health certificate if you're travelling directly to: Finland, Ireland, Malta, Northern Ireland, Norway. Note: Your dog must be treated for tapeworm to enter or return to the UK from an EU country - unless travelling from the above mentioned countries. This must be done no less than 24 hours and no more than 120 hours (5 days) before entering GB.
These requirements also apply to assistance and guide dogs.

Check the rules of the country you're travelling to for any additional restrictions or requirements before you travel.
More details can be found on our Pet Brexit page or visit the government pet travel advice page for more information.
Dogs, cats or ferrets are allowed on our ships, as long as they meet all the EU entry requirements and have a valid AHC or EU Pet Passport. For more details visit the gov.uk site.
As all pets must stay inside the vehicle during the trip, unless you have upgraded to the Pet Lounge, we've put together a few tips on how to make the journey as comfortable and hassle-free as possible for both you and your pet.
Make sure to feed your pet at least a few hours before boarding the ship – if you do it later then they may get travel sick.
You should also leave some water in the car in a non-spill bowl for them, so that they can stay hydrated.
Always allow time for your pet to go to the toilet before boarding.
Give your pet plenty of exercise before they travel – that way, they're likely to be less restless on the car journey.
It's also a good idea to give them some toys to amuse them during the voyage.
Leave your pet's bedding in the car with them so they feel cosy and at home – we wouldn't want them to get nervous or scared!
Make sure your car is as cool as possible when you leave them, particularly in the summer months, and always leave a window or two cracked open for them.
If your pet isn't used to going on long journeys, taking them in the car a few times before the crossing is a good way to get them comfortable with travelling. This will make the journey enjoyable for all your passengers, not just your pet!
We know how much your furry friends matter to you, which is why we're pleased to let you know that both our Dover and Calais Ferry Terminals now have two dedicated pet areas for your much-loved pets to stretch their paws and enjoy some playtime in the open-air!
Not only that, for the Crufts wannabes among your beloved companions, we also have a few obstacle tasks within the exercise areas to get them energised and exercised, as well as a seating area for you to relax.
Our staff will be happy to direct you to these dedicated pet areas once you've checked in, just ask them for directions.
If your pet is poorly on the way to the ferry, you'll find the nearest vet information for Dover and Calais ports below.
As your pet stays in your vehicle during the voyage, it's important to make sure they're fully fit and well before boarding the ship.
White Cliffs Vets
Unit 11, Whitfield Court, White Cliffs Business Park, Whitfield, CT16 3PX
Monday - Friday: 8.30am - 6pm
Thursday open until 7pm
Saturday 8.30am to 12noon
Tel: 01304 41 41 41
Web: www.whitecliffsvets.co.uk
Clinique Vétérinaire
Dr Wuillot, Dr Lavielle & Dr Mottoul, 139 Boulevard Curie, 62100 Calais
Monday - Friday: 8.30am - 1pm and 2pm - 8pm
Saturday: 8.30am - 12noon and 2pm - 8pm
Tel: +33 (0)321 821 511
Web: www.centre-veterinaire-curie.fr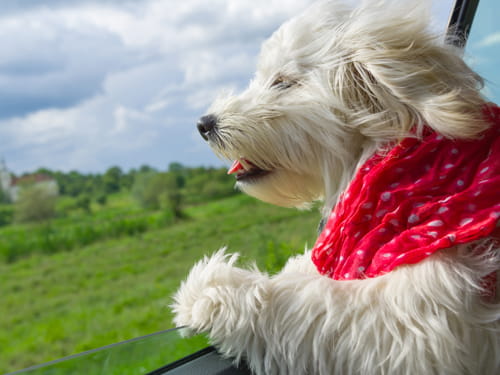 Need help ?
View our Frequently Asked Questions before travelling with P&O Ferries.
Help Centre
Contact us